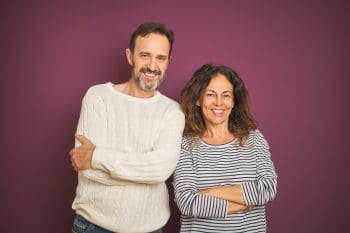 When dentures are necessary for restoring a person's smile, they make it possible to give someone their full smile with a single restoration. With a removable denture, you can regain your smile while also enjoying practical support from treatment. Over time, however, you can grow concerned as your denture starts to feel less secure. You can also feel dissatisfied by an appliance that offers less bite support than you might have hoped for. By switching from a removable denture to a denture held by dental implants, you can gain more confidence in your smile and bite function! Our Londonderry, NH dentist's office is ready to talk with you about the advantages of implant-held dentures, and to determine if you are ready to have implants placed.
Why Are My Dentures Starting To Feel Less Secure?
If your dentures feel less secure than they used to, wearing them throughout the day can be less pleasant. What you might not realize is that the trouble with your appliance can be linked to changes in your jawbone. After you lose teeth, you will no longer be able to stimulate the bone – this change interferes with the movement of nutrients to the tissues. In time, a person's jawbone will lose mass after tooth loss, and that creates changes that can make a restoration feel uncomfortable.
How Dental Implants Help Patients Who Have Lost Teeth
Dental implants are set permanently into a patient's jawbone. To ensure that they stay secure and provide lasting support, a careful study of your jaw and oral structures will occur. For individual prosthetic teeth, implants can imitate tooth roots when anchoring them to your jaw. For patients who are seeking implant-held dentures, a set number of implants (often just four to six) will be put in position to hold a prosthetic and make sure it is stable enough to support their ability to bite, chew, and speak.
Enjoying Life With A Stable Prosthetic
After you switch from removable dentures to an appliance held with dental implants, you can feel more comfortable when eating and speaking. The stability provided through this arrangement ensures that dentures will not move or slip during the day, making it easier to forget that you have a restoration. Regular dental exams will be important for making sure your implants are still healthy, and that your denture is still in good condition.
Talk To Your Londonderry, NH Dentist About Implant-Held Dentures
My Dentist in Londonderry, NH is prepared to help when patients with removable dentures want a more secure alternative. With implant-held dentures, you can feel more comfortable throughout the day, and you can enjoy a greater range of foods thanks to your restored bite! To find out more, please contact our Londonderry, NH dental office at 603-965-3407.