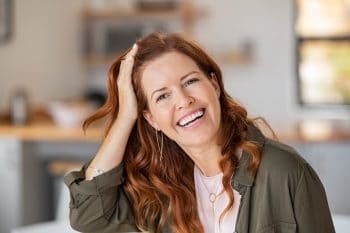 Even though you put in the effort to keep your smile cavity-free, you cannot help but feel embarrassed by its appearance. For many people, cosmetic flaws are a consequence of naturally occurring problems with teeth that are poorly aligned, misshapen, or simply not the right size to look attractive. It is also possible that you have lost confidence relatively recently because of teeth stains or dental damage. Fortunately, cosmetic dental work can address these different issues, and often with less time and fewer changes to your tooth structure than you expect! Our Londonderry, NH dentist's office is prepared to help you understand what treatments are available to you so that you can make an informed choice and see exciting smile improvements.
What Makes You Self-Conscious About Your Smile?
Cosmetic dental work can help with many different issues. Whether you are worried about the shape, size, color, condition of teeth, or even with the way they are aligned, we can discuss the benefits of care. You can find that porcelain veneers are actually able to address more than one problem in just one procedure, making them a beneficial treatment for those who have several issues with the way they look when they smile. One thing our practice can also do is recommend treatment with Botox and dermal fillers, which can improve your appearance by dealing with wrinkles around your mouth.
Take Care Of Teeth Stains That Have Dulled Your Teeth
Because so many things we consume leave particles on our teeth that stain them, discoloration is a common concern. In order to deal with this problem effectively, we can recommend a professional teeth whitening procedure. The whitening treatment available at your dentist's office can do more than store bought alternatives. A product you find at your local grocery store or pharmacy can have little impact beyond removing surface stains. The agents provided by your dentist can remove deeper stains that have built up over time, leading to more exciting results!
How Porcelain Veneers Lead To Major Cosmetic Improvements
With porcelain veneers, we can cover teeth in order to hide problems with dental damage, discoloration, and general wear and tear. Veneers can even be carefully designed to correct problems caused by teeth that are the wrong size, or that may be out of alignment. Veneers require minimal changes to your tooth structure, so the results you enjoy come with only minor modifications to your enamel.
Talk To Your Londonderry, NH Dentist's Office About Cosmetic Dental Work
My Dentist in Londonderry, NH is prepared to help patients who wish to find ways to positively change the way they look when they smile. If you are currently concerned about your appearance, or if there are other smile concerns that affect you, contact our Londonderry, NH dental office at 603-965-3407.