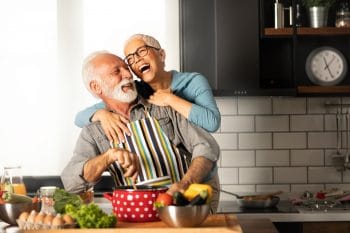 At first, you may have had no concerns about the custom denture provided to you to address tooth loss. However, you may have noticed that it no longer feels as reliable or stable as it used to. This is a problem that affects many people who have had to receive a dental prosthetic. As time passes, your jawbone will lose mass after tooth loss because the stimulation that triggered the movement of nutrients to the bone has ceased. That loss of density can affect the relative fit of your denture, leading to discomfort and frustration. At our Londonderry, NH dentist's office, we can talk to you about having a series of dental implants put in place that you can count on to keep your prosthetic stable and comfortable!
Jawbone Deterioration And Its Effect On Dentures
Your jawbone depends on your teeth to stay healthy. When you bite and chew, the roots of your teeth cause stimulation in the bone, which sends a message to your body to keep moving nutrients to the bone for support. After losing teeth, there is no longer anything present to stimulate the bone and ensure that nutrient flow continues. This will lead to a gradual loss of mass that can affect your appearance as well as your oral health. Because your denture was made to fit you before that deterioration occurred (or continued), this problem can lead to difficulties with keeping your restoration in place.
Dental Implants Can Make Sure That Your Dentures Stay In Place
Dental implants have the ability to stimulate your jaw, which once again tells your body to move nutrients to it. As a result, you are able to effectively address the threat of deterioration. When you have dental implants put in place to hold a denture, you can resolve this problem while also removing the need to count on epoxies or natural suction to hold your prosthetic. With a new, long-term form of support available to you, it can become easier for you to eat a number of foods that have proven difficult to enjoy after you lost teeth.
Other Benefits To Prosthetic Work That Includes Dental Implants
Because dental implants stimulate your jawbone and protect it from deteriorating, they help you avoid long-term complications from losing teeth. For patients who need full dentures, they offer a means of keeping your restoration fully secure. If you are someone who only has a dental bridge or partial denture, the implants can help protect neighboring teeth from shifting, so they are less likely to be lost in time.
Talk To Your Londonderry, NH Dentist About Implants For Your Dentures!
By making plans to restore your full smile with implant-held dentures, you can enjoy better bite support, a more confident smile, and long-term protection against jawbone deterioration. To learn more about how we can give you permanent support for your denture, call My Dentist in Londonderry, NH at 603-965-3407.