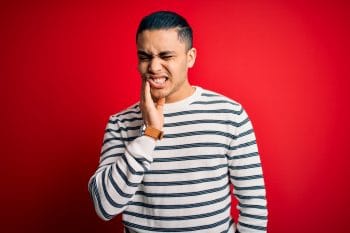 After a severe dental injury, you may assume that the only thing your dentist can do is safely extract a tooth, then plan on replacing it. While injuries do sometimes demand the removal and replacement of a broken tooth, it is possible to save a tooth and restore it with a lifelike dental crown. At our Londonderry, NH dentist's office, we are ready to take on a problem with a dental emergency so that your smile is restored as soon as possible. If there is a way to save a broken tooth, we can do the work to make sure it is saved and protected with a custom appliance. If the tooth is too badly hurt to be saved, we can make plans to carefully remove it before providing a permanent prosthetic appliance.
Emergency Treatment Is Available For Your Injured Tooth
Simply put, emergency dental work makes it possible to save a badly hurt tooth. It is important to seek out treatment on short notice if a tooth is chipped, cracked, or otherwise damaged. Leaving the problem alone could make you vulnerable to an infection, which can lead to pain and sensitivity. In time, that infection can cause enough problems to make extraction necessary.
A Root Canal Procedure May Be Required For Your Tooth
If you are in continued pain, or if your tooth is vulnerable to an infection, it can be necessary to provide a root canal procedure. In this situation, the root canal will stop any lingering discomfort caused by an infection, and it can stop bacteria from doing further harm to your pulp. Once the root canal is performed, we can use a custom dental crown to make sure that the tooth stays safe.
What Happens If There Is Not A Way To Save My Tooth?
While the idea of losing a tooth can be scary, the work to safely extract and replace a tooth can protect you from potential oral health complications. After the extraction, we can discuss your options for a prosthetic appliance. With a dental implant, it is possible to hold an appliance in place permanently so that it can be counted on for stability whenever you bite and chew.
Schedule Treatment For A Dental Injury With Your Londonderry, NH Dentist's Office
At our Londonderry, NH dentist's office, we are prepared to help patients when they have a problem that requires urgent attention. In the event that you require emergency care, you can have the problem evaluated and treated so that your smile is protected and you are not in pain. To find out more about our services, or to learn more about our emergency care, you can contact My Dentist in Londonderry by calling 603-965-3407.