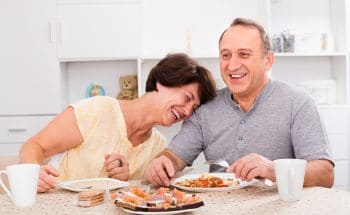 It can be frustrating to look in the mirror and see multiple gaps in your smile that are the result of tooth loss. While one missing tooth can be frustrating by itself, many people find themselves in a situation where they have lost several teeth over time, and feel unsure of how to best address this problem. At our Londonderry, NH dentist's office, patients in this situation can learn about the benefits of receiving a partial denture. A partial denture is customized for your current needs, meaning it will be made to address all of the teeth you are currently missing. When placed, this restoration can be secured with hidden clasps that make the appliance surprisingly comfortable.
How Does A Partial Denture Address Tooth Loss?
A partial denture is made to replace all of the teeth that are currently missing from your smile. In other words, this appliance is carefully constructed to fill all of the gaps that you currently wish to close through prosthodontic treatment. With hidden clasps, your partial denture is set in position in order to stay stable and comfortable throughout the day. While some dental bridges can be designed to help with multiple missing teeth, partial dentures are effective at restoring a smile when absences are not adjacent.
Keeping Your Partial Denture In Place
Special clasps can be placed by your dentist in order to hold your partial denture in position during the day. Thanks to their support, you can wear your denture comfortably, and without the fear that it might loosen or slip while you eat or speak. You are also able to remove it without trouble so that you can give your restoration the most effective cleaning possible.
Reviewing Other Options For Fully Restoring Your Smile
If you are trying to address losses that are located in one space, a larger dental bridge can be effective at restoring your smile. The bridge is permanently placed, so you will not be able to remove it. This secure hold is provided by a pair of dental crowns that are placed over teeth at either side of a gap. In some cases, you may find that your dentist can support a larger restoration to address multiple missing teeth with dental implants. Dental implants imitate support that teeth receive from roots, and they can help you feel more confident as you bite, chew, and speak.
Talk To My Dentist In Londonderry, NH About Receiving A Partial Denture
At My Dentist in Londonderry, NH, patients who are ready to do something about tooth loss can be excited to learn about the benefits of having a partial denture placed. A partial denture is able to close multiple gaps in your smile, even if you have missing teeth from different parts of a row of teeth. For more information about this appliance, and other prosthodontic treatment options, contact our Londonderry, NH dental office at 603-965-3407.