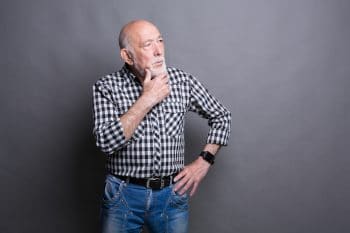 Over time, a person with dentures may feel that their prosthetic is less secure than it used to be. Is this because the denture itself is in poor shape? If you have a denture supported by epoxies or suction, this change in your comfort could actually be traced back to issues with your jawbone. Tooth loss robs the bone of support from teeth roots, which create stimulation that tell your body to deliver nutrients to your jaw. In the absence of that stimulation, you can lose jawbone mass, which can affect your oral health and appearance. At our Londonderry, NH dental practice, we can provide dental implant-supported dentures that stimulate your jawbone, and ensure that the bone stays healthy.
Dentures Can Feel Less Comfortable Because Your Jawbone Is Losing Mass
While dentures make it possible to restore your smile, they may leave you without meaningful functional support. You can also find it awkward to have an appliance in place that is only held by suction, or with special epoxies. Over time, the comfort level of your restoration can be affected by jawbone resorption, or the loss of jawbone density after tooth loss.
Receiving A Prosthetic Supported By Dental Implants
If you want to have better support for your denture, you can make an appointment to discuss a restoration put in place with dental implants. Before this occurs, your dentist will perform a thorough evaluation to see if you are currently a good candidate for their placement. If jawbone resorption has already affected you, more support for the bone can be required before you can receive implants. When you have approval, we can actually plan both the placement and restoration of your implants at our dental office. This can make the overall process more convenient for you, and it ensures that everything about your care is handled by your trusted dentist.
A Modern Prosthetic Can Offer More Comfort, And More Support
Modern prosthetic treatment solutions help patients have better experiences after tooth loss. Lifelike dental bridges and dental implant-held restorations have made it easier for people to restore their bite function after the loss of teeth. In addition to making them more confident in their biting and speaking ability, this added stability also ensures they can maintain a more varied diet. If you have recently suffered tooth loss, or if you have issues with an older restoration, we can work with you on exciting modern solutions for your incomplete smile.
Talk To My Dentist In Londonderry, NH About Your Issues With Older Dentures
At My Dentist in Londonderry, NH, we are proud to offer our patients access to modern, smile-friendly solutions for tooth loss. If you have questions about prosthetic dental work, or if you have growing concerns about an older prosthetic, please contact our Londonderry, NH dental office at 603-965-3407.