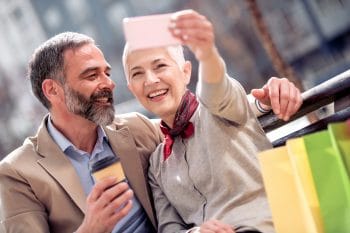 If you have lost even a single tooth, restoring your smile should be your top oral health priority. This is an oral health issue that can cause a severe change to your smile, and it can make everyday actions like biting, chewing, and speaking more difficult. At our Londonderry, NH dental office, we can talk to you about restoring your full smile with a prosthetic appliance held in place by a dental implant! Implants make restorations more secure, so they can feel natural and comfortable even as you use them to bite, chew, and speak. You can also count on implants to provide important support for neighboring teeth, and the long-term health of your jawbone.
How Can Dental Implants Fit Into Plans To Replace Missing Teeth?
A dental implant is a small post that is put in place to hold your prosthetic in position. It can help to think about implants as replacements for the roots of missing teeth. With that said, it should be noted that you can actually hold a larger restoration, like a denture, with a few smartly placed posts, so it is not necessary to have an implant in place for every replacement tooth!
Receiving Dental Implants
Implants are inserted directly into your jawbone through a surgical procedure. To determine exactly where an implant should reside, and to make sure you are ready for this procedure, your dentist will perform an important preliminary evaluation. If there are other problems identified during this review, you and your dentist can arrange for treatment before moving forward.
An appropriate healing period is needed between the placement of your implant, and the securing of your prosthetic. This period gives your jawbone time to bond with the implant, creating an incredible degree of support. Because of this, you can count on your restoration to remain firmly in position even as you put pressure on it when speaking, biting, and chewing.
The Right Approach To Prosthodontic Work Can Improve Your Smile And Dental Function
In the long term, the presence of a dental implant can keep neighboring teeth from shifting or being lost, and it can keep your jawbone stable by creating important stimulation. Patients can also appreciate that the implant's ability to replicate the support of a natural tooth root can make a restoration feel more natural, and more comfortable over time.
Talk To My Dentist In Londonderry, NH About Receiving Dental Implants
At My Dentist in Londonderry, NH, our patients can count on having access to modern care whenever they might have an issue with their oral health. For individuals who have suffered tooth loss, we can discuss restoring smiles with dental implant-held restorations! To find out more, you can reach My Dentist by calling 603-965-3407.