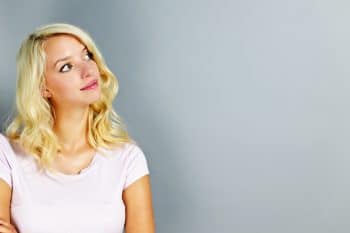 If you want your smile to look better, you should look into cosmetic dental work. If you need to do something about an oral health problem, you should schedule restorative dental work. So what should a person do if they are concerned about an oral health problem, while also feeling bothered by the appearance of their smile? At our Londonderry, NH dentist's office, we provide lifelike dental restorations that can preserve the health of a tooth, while also making potential improvements to the way it looks! This can mean that seemingly significant dental needs can be resolved in less time than you might think possible. We can also offer both cosmetic and oral health improvement through orthodontic work with Invisalign aligners.
Modern Dental Crowns Help Your Appearance And Dental Function
A dental crown made from lifelike ceramic can look the way a natural, healthy tooth looks. If you have a problem with an advanced cavity, or with a dental injury, we can provide you with a custom dental crown that gives you renewed confidence in the way you look, while also protecting your tooth. In addition to matching the color and texture of your enamel, the crown will be custom-made to perfectly fit your tooth.
Fixing Alignment Flaws Through Invisalign Treatment
Invisalign aligners make it possible to adjust your smile discreetly, meaning you can look forward to the benefits of straight teeth without having to wear a conspicuous appliance. Because straighter teeth can make a big difference to the way you look, you can assume that orthodontic work is all about appearances. With that said, straighter teeth can also improve your bite function, and reduce your risk for cavities and gum disease.
We Can Also Help You Preserve Your Lovely Smile!
Our practice is here to do more than just address problems that arise, and impact your quality of life! By scheduling routine dental checkups with us, you can look forward to dedicated care on an ongoing basis. The cleanings and evaluations provided during each visit keep you informed about your oral health, and they reduce the chances that you might experience any issues in the future.
Talk To My Dentist In Londonderry, NH About Care For Your Smile, And Your Oral Health
At My Dentist in Londonderry, NH, patients who want to improve their smile, and their oral health, can find that a single procedure is able to do both! Our practice provides a range of services, as well as ongoing preventive care to help you avoid any issues with your dental health or appearance. If you have questions about a specific issue, or if you want to set up an appointment with us, contact our Londonderry, NH dental office at 603-965-3407.