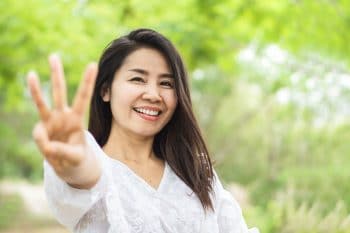 Can an unaddressed issue with the alignment of your teeth affect your smile? It certainly can, and for many people, the cosmetic effect of poor dental alignment is the only reason they need to look into orthodontic work. If you want that work to be more discreet, and easier to fit into your life, you can talk to your Londonderry, NH dentist about using Invisalign aligners to correct gaps, overlaps, and any other problems that might affect the positioning of your teeth. It should be noted that by straightening your smile, you can do more than just improve your appearance. Orthodontic work can also improve your bite function, and make you less likely to suffer cavities.
1. You Can Feel Self-Conscious About The Way You Look
Poor dental alignment can lead to serious anxiety about your smile. This can feel particularly unfair when you consider how this problem can be out of your control. If you want to avoid problems with discolored teeth, you can limit your intake of dark and color-rich products, while also brushing thoroughly. If you want to protect yourself against dental damage, you can wear mouth guards during sports, and avoid chewing on hard surfaces. Alignment flaws can occur naturally, and leave you feeling self-conscious. Fortunately, discreet treatment with Invisalign aligners can help!
2. You May Have A Harder Time Practicing A Natural Bite
You may not think much about your bite function, but it can have a real impact on your well-being. Evenly applying pressure when you bite down can prevent a situation where certain teeth are doing too much work while you eat, and it can reduce pressure on your jaw. By straightening your teeth, you can lower your risk for TMJ dysfunction, and protect teeth from overuse.
3. Effectively Preventing Cavities Can Be More Difficult
When teeth are too close together and overlap, it can be hard to effectively clean those overlapping portions. While your brush bristles can be too large to effectively fit in the space between teeth, bacteria and food particles can still find their way in, and cause problems. If you correct this problem with an orthodontic adjustment, you can make yourself less likely to experience tooth decay, meaning you will be less likely to need future restorative dental work.
Talk To My Dentist In Londonderry, NH About Addressing Your Crooked Teeth
With Invisalign aligners, you can discreetly correct the alignment of your teeth and improve your smile, while also improving your ability to avoid frustrating oral health issues! At My Dentist in Londonderry, NH, we offer these aligners to individuals who are hoping to fix their dental alignment without using fixed metal braces. We also provide a range of restorative and cosmetic services that can help you show off a better, healthier smile. To find out more, you can reach My Dentist by calling 603-965-3407.