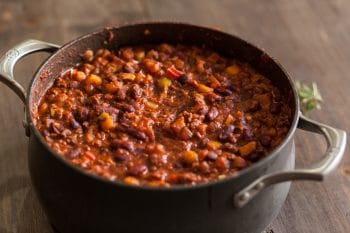 On Friday, February 23, Londonderry residents can enjoy an afternoon tasting a collection of top-notch chili recipes, or show off their own. The Women's Council Of Realtors Southern New Hampshire are hosting the cook-off to help raise funds for their organization. Those interested can sign up to enter their chili in the competition, and compete for prizes as they seek top honors. If you are not ready to test your cooking skills, you can join in the fun and sample the collection of chilis made by residents in and around the Londonderry area.
When:
The chili cook-off fundraising event is scheduled to take place on Friday, February 23. This afternoon event is currently scheduled to run from 12 pm until 2 pm that day.
Where:
The contest is being held at the Granite State South Board Of Realtors, which is located at 50 Nashua Road #105, Londonderry, NH.
Cost:
If you wish to enter your chili into the cooking contest, the registration fee is $25. If you want to attend, but do not wish to compete, you can sign up to taste and vote on your favorite chilis for a registration fee of $10.
Activities Include:
You can enter your own chili recipe, and compete for a prize – the first place winner will receive a $75 LaBelle Winery gift certificate. Those who just wish to attend can come out to enjoy a number of different chilis cooked up by area residents.
For More Information:
For more information about this event, click here.
Schedule Your Next Dental Visit At My Dentist In Londonderry, NH
At My Dentist in Londonderry, NH, patients of all ages have access to a comprehensive range of dental services. To learn more, schedule a consultation with one of our experts by calling the My Dentist office in Londonderry, NH, today at (603) 965-3407.