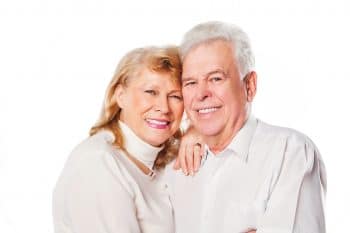 Serious tooth loss is something that can seriously harm your quality of life. Fortunately, dentures make it possible to fully replace your upper or lower row of teeth. This can give you a renewed confidence, as a set of dentures can closely match the appearance of your original teeth. Your dentist will provide you with a set of dentures, which are designed to fit in your jaw comfortably. If you want to enjoy greater stability with your dentures, and have an easier time with biting and chewing tasks, it is possible to have your dentures held with dental implants. You can talk to your dentist to make sure you are a candidate, and learn how selectively placed implants can do wonders for your prosthetic experience.
Ensuring Your Dentures Look Great, And Fit Comfortably
Your complete dentures are made with a row of attractive, life-like teeth, and a base that's designed to blend in with your gum tissue. They will be designed so that they are a natural fit in your dental ridge.
If you still have some of your remaining teeth, you may want to discuss partial dentures with your dentist. These prosthetics are made to work around your existing teeth, so that they can be preserved.
Should You Think About Having Dental Implants Put In Place To Hold Your Dentures?
If you have dental implants placed to support your dentures, you can experience a more comfortable degree of support, and enjoy a better experience with biting and chewing. Implants are also recommended because they can help you preserve the density of your jawbone. A prosthetic without implant support can still leave you susceptible to a loss of density.
Talk To My Dentist In Londonderry, NH About Receiving Dentures
At My Dentist in Londonderry, NH, we can help you receive the care you need to restore your incomplete smile. After a review of your needs, you can learn how your appearance, and your dental function, can be dramatically improved by tending to issues with tooth loss. To learn more, schedule a consultation with one of our experts by contacting the My Dentist office in Londonderry, NH, today at (603) 965-3407.