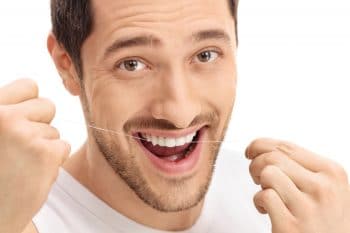 Could you be doing a better job protecting your smile from threats like tooth decay and gum disease? Ideally, you should be providing your teeth with effective daily care, while also keeping up with routine dental exams. Your oral health can be seriously impacted if you fail to exercise smart preventive dental habits. Without routine exams and dental cleanings, you can leave tartar and bacteria on teeth, and miss the formation of a cavity. When you fail to practice proper brushing and flossing, you can leave yourself poorly defended against oral bacteria, which can create trouble for your smile. 
Could You Improve Your Level Of Daily Oral Care?
When it comes to daily oral care, you should consider the kind of attention you provide during your daily routine. Brushing should take you at least two minutes, and you should aim to reach every area. A daily flossing habit will allow you to defend those spaces between teeth, which can be highly difficult to reach through brushing alone.
Daily care is not just about what you do to clean your teeth – what you eat and drink can also have a big impact. If you have a fondness for sweets, you could be putting your teeth at greater risk for decay.
Why You Should Make Sure You Continue To Schedule Preventive Dental Visits
Even if you feel that you do a great job defending your smile at home, you should keep up with routine dental exams, which should typically occur every six months. Your dentist is able to spot problems early in their formation, and can see when something is wrong, even if you have not felt any symptoms. Catching a cavity early can minimize the amount of restorative dental work needed on your tooth.
Talk To My Dentist In Londonderry, NH About Preventive Dental Care
At My Dentist in Londonderry, NH, you can look forward to amazing dental care at every appointment. Our practice is committed to helping patients enjoy healthy, happy smiles, and we can provide whatever care you need to maintain your oral health. If you would like to schedule a consultation with one of our experts to discuss this, or any other cosmetic procedure, you can contact the My Dentist office in Londonderry, NH, today at (603) 965-3407.