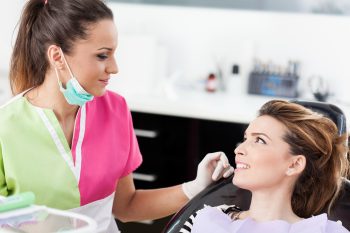 Patients deserve to have dental care that makes their comfort a high priority, which means focusing on more than just preventing discomfort. A common problem associated with restorative dental work is the lingering effects of localized anesthetic. Leaving the dentist's office with a mouth that is still experiencing numbness can be uncomfortable and awkward. By providing single-tooth anesthesia, your dentist can prevent needless discomfort during a procedure, but prevent the awkward effects of traditional anesthetic support. You can receive the work you need, then leave the office without the bothersome side effects many people associate with dental treatment.
Taking Patient Comfort Seriously
Undergoing dental work can be a stressful experience, especially for those who already exhibit signs of dental anxiety. Single-tooth anesthesia can greatly improve your sense of comfort during a procedure. If you are undergoing a longer or more difficult procedure – or if you have general anxious feelings around care – nitrous oxide can help. By providing this gas, your dentist can help you feel relaxed throughout your visit.
Want To Avoid Future Dental Work? Focusing On Preventive Dental Care
Single-tooth anesthesia may make restorative care more comfortable, but the best thing you can do for your oral health is avoiding problems in the first place. If you want to avoid issues that leave you needing dental work, keep up with your preventive dental exams. Combining quality care at home with routine checkups will help you to keep your smile free of cavities, meaning your dentist will not need to work on your teeth. You can also improve your resistance to tooth decay by making changes to your diet. If you cut down on sugar, you can reduce the potential harm to your teeth.
Singl-Tooth Anesthesia Is Available At My Dentist In Londonderry, NH
At My Dentist in Londonderry, NH, patients who need to undergo dental work can appreciate the benefits of single-tooth anesthesia. This treatment will allow you to undergo dental work without discomfort, while also helping you avoid the annoying side effects that come with full mouth anesthetic. You can schedule a consultation with one of our experts by contacting the My Dentist office in Londonderry, NH at (603) 965-3407.