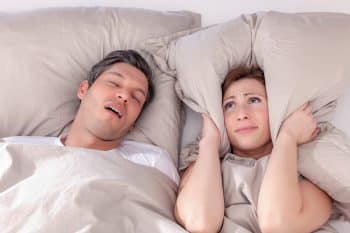 A snoring problem is something you would expect your partner to bring up – and hopefully, they are tactful when they address it. What you might not realize is that this problem is something that may also call for your dentist's attention. By providing you with a custom-made oral appliance that keeps your airways clear while you sleep, your dentist can address your problem with snoring. This will facilitate unobstructed breathing, so that you rest peacefully (and quietly). This can be more than just a courtesy to your partner. If your snoring is the result of obstructive sleep apnea, this treatment can help you avoid potentially serious health concerns.
Securing Help For Sleep Apnea That Does Not Require A CPAP Machine
When people discuss treating sleep apnea, they may assume the only way to provide effective care is through a CPAP machine. Unfortunately, this can be an uncomfortable treatment for many people. With a special oral appliance from your dentist, you can stop sleep apnea from harming your well-being without adjusting to the presence of a CPAP machine.
Are You Taking Advantage Of Regular Dental Care?
When you seek out regular dental care, you are gaining more than just a defense against cavities. Your dentist can help you deal with problems like snoring and sleep apnea, and help you sleep comfortably. They also help against issues like gum disease, and TMJ dysfunction.
Oral cancer is a potentially deadly disease that you should be checked for on a regular basis. VELscope allows your dentist to provide advanced early detection – early detection means early treatment, which can greatly improve your chances of a successful recovery.
Could Your Snoring Problem Be A Sign Of Sleep Apnea? Talk To My Dentist In Londonderry, NH
A snoring problem can be embarrassing, and sleep apnea poses a real problem to your overall oral health. At My Dentist in Londonderry, NH, you can receive help in the form of a custom oral appliance that will allow you to breathe comfortably without creating an obtrusive snoring sound. To learn more about how your dentist can help you manage this issue, schedule a consultation with one of our experts by calling My Dentist in Londonderry, NH, today at (603) 965-3407.