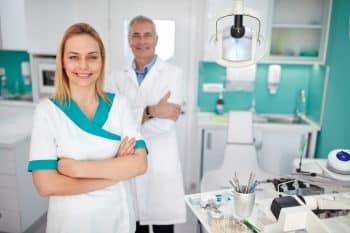 Oral cancer is a serious, potentially deadly, disease. When it comes to combating this condition, early detection can have a big impact on your odds of successful recovery. You can perform a self-check for oral cancer, monitoring the inside of your mouth for lesions, sores, or other suspicious textures. Your dentist can also provide a careful examination thanks to VELScope. VELScope provides your dentist with a means to detect the earliest signs of oral cancer. This means you can be diagnosed – and have treatment started – before symptoms would even be visible.
Modern Technology Can Improve The Dental Treatment Experience
With modern technology, your dentist can offer you superior dental care. One important improvement is with imaging technology. Thanks to advanced digital x-rays, your dentist can make diagnoses based on more accurate and detailed information. If you are about to undergo something more involved, like dental implant placement, 3D imaging can help your dentist plan your procedure.
Other Benefits From Preventive Appointments
Preventive dental appointments offer important screenings for oral cancer, but they also provide you with crucial care for more common issues like cavities and gum disease. When a cavity has less time to develop, less of your tooth will be damaged. Your restorative dental work will also be more conservative. You also receive important feedback on the condition of your smile, and a professional cleaning from your hygienist. With the cleaning you receive, and the input you are given about the state of your smile, you can work to ensure your risk of having problems like tooth decay in the future are limited.
Enjoy Early Detection At My Dentist In Londonderry, NH Thanks To VELScope
With VELScope, you can enjoy earlier detection and treatment for oral cancer. At My Dentist in Londonderry, NH, our office is committed to using modern tools to offer you the best possible care. This means enjoying restorative care sooner, which can help better protect your smile, and your health. To learn more, schedule a consultation with one of our experts by calling the My Dentist office in Londonderry, NH, today at (603) 965-3407. Our patient forms are provided online.