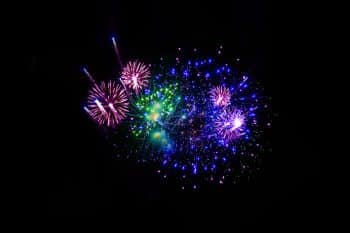 As part of this year's Old Home Day series of events, you and your family are encouraged to come out to the Londonderry High School lawn and enjoy the Friday Night Concert And Fireworks! The Friday Night Concert And Fireworks has been a popular gathering, and a popular Old Home Days attraction, for many years. You can enjoy the sounds of the band Manchuka, an eight piece group featuring a five piece horn section, singers, and a rhythm section. The group is sure to keep your toes tapping, but once they wrap up, make sure you stick around for the fireworks display, organized by the Londonderry Fire Department.
When:
This year, the Friday Night Concert And Fireworks will take place on Friday, August 18. The concert will begin at 7:15 pm. The fireworks are scheduled to begin at 8:45 pm.
Where:
The concert is taking place on the lawn of Londonderry High School, located at 295 Mammoth Road, Londonderry, NH.
Cost:
There is no cost listed to attend the event.
Activities Include:
The evening kicks off with a performance from the eight piece band, Manchuka. After their show concludes, a fireworks display will bring the night to a close.
For More Information:
For more information about this event, click here.
Schedule Your Next Dental Checkup At My Dentist In Londonderry, NH
At My Dentist in Londonderry, NH, our staff maintains a commitment to providing superior care for all of our patients' smiles. To learn more, schedule a consultation with one of our experts by reaching out to the My Dentist office in Londonderry, NH, today at (603) 965-3407.