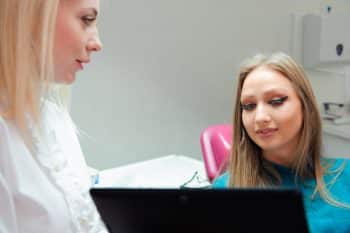 What does advanced imaging technology do to improve your dental experience? Your dentist uses images of your smile to plan procedures, and to more carefully examine the current quality of your oral health. Digital x-rays, which emit notably less radiation than conventional x-rays, offer a clearer view of your teeth, making it easier to make observations and diagnoses. Digital imaging using ConeBeam technology opens up the possibility to create a 3D image of your mouth. This can help your dentist plan more involved work, like the placement of a dental implant.
Counting On Modern Care When You Come In For Preventive And Restorative Treatment
When you come in to see your dentist, modern tools and technology can open you up to an advanced degree of oral care. Digital x-rays help your dentist more carefully examine your smile, and better images lead to more accurate information. When it comes to restorative dental work, the use of modern, life-like materials means that you can have work done after a cavity that cares for your tooth, and preserves your appearance.
Using Imaging Technology To Plan Your Dental Implant Placement
Patients who receive implant-supported prosthetics can feel more comfortable, and avoid problems that are associated with tooth loss. When it comes to the health of your jawbone, an implant can offer exclusive support against deterioration of the bone. With digital imaging, the process of planning your implant placement becomes easier. Better planning means a more successful procedure. That means you are on your way to having your smile restored after tooth loss.
Receiving Modern Care With Modern Imaging Technology At My Dentist In Londonderry, NH
Modern imaging technology helps ensure you have access to advanced, modern care when you come to My Dentist in Londonderry, NH. Our office is dedicated to making sure that our patients are receiving important, modern care, and that their oral health needs are fully addressed. Of course, everyone on staff is committed to seeing that, in addition to quality care, you enjoy a friendly and welcoming atmosphere. If you are seeking dental treatment, schedule a consultation with one of our experts by calling the My Dentist office in Londonderry, NH, today at (603) 965-3407.