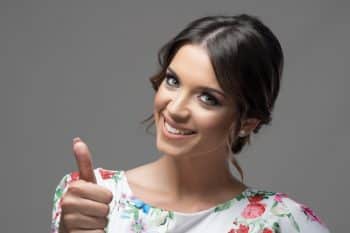 A meeting with your dentist can lead to insights into what cosmetic dental treatment might be right for your needs. You may not know what procedure is best to address your smile flaws, but if you are interested in cosmetic work, you are likely ready and able to point out what you would like to change. Different procedures can be preferred for different issues. If you have teeth that are discolored, you may want nothing more than to have a whitening treatment performed. However, you may want to do something about misaligned teeth – Invisalign can offer a dental correction, and a big smile improvement.
Different Improvements Possible Through Cosmetic Dental Treatment
Your dentist can recommend a cosmetic treatment based on what you would like to do to improve your smile. Invisalign can help correct alignment problems, and whitening can improve the color of your smile. However, you might also want to address teeth that look bad because they are misshapen, or due to dental damage. Porcelain veneers are often utilized in order to cover up multiple flaws with a person's teeth.
How Your Habits Can Contribute To Cosmetic Problems
After cosmetic dental work, your smile can look remarkably different. If you want to preserve that outcome, make sure you take good care of your teeth. At each preventive dental checkup, your dentist can examine how you look – if you have porcelain veneers, they can make sure they are still in good condition. Keeping up with dental cleaning habits, and limiting items that are likely to stain your teeth, will make it easier to limit future cosmetic concerns.
Talk To My Dentist In Londonderry, NH About Addressing Cosmetic Dental Flaws
At My Dentist In Londonderry, you can undergo a cosmetic dental treatment that finally gives you the smile you have wanted to show off. Our office provides multiple services, with different treatments used to make sure you enjoy your best and brightest smile. To learn more about the care we provide to our patients, schedule a consultation with one of our experts by reaching out to My Dentist office in Londonderry, NH, today at (603) 965-3407.