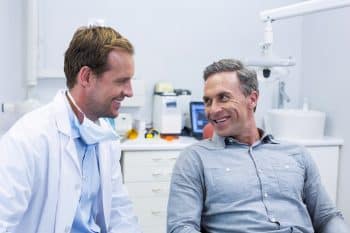 3D imaging is used by your dentist to closely examine your mouth. The views provided by these scans are often used to plan more involved treatments, like the placement of dental implants. One benefit for patients is that 3D imaging eliminates the requirement that you bite into an unpleasant plaster mold to create an impression of your teeth. This technology, along with the digital x-ray technology also available to your dentist, helps them make a careful study of your smile. Problems can be identified, and treatments can be planned, in order to make sure any issues that turn up do not create trouble for you.
How Imaging Technology Can Improve Your Dental Experience
Your best oral care involves expert information about your smile. Your dentist can use digital images to carefully examine your teeth and oral structures in order to provide the most accurate diagnoses. Imaging technology can also be less intrusive than earlier methods for creating 3D models and images. Because digital x-rays use far less radiation, these new technologies can also be much safer.
Other Dental Innovations That Benefit You
Imaging technology is not the only improvement waiting for you at your dentist's office. With single-tooth anesthesia, your dentist can make sure to limit discomfort during a dental procedure without the frustrating side effects that are often associated with anesthesia. The modern materials used to construct dental restorations provide protection and support, but will not affect how you look. For instance, a porcelain dental crown will look like a natural tooth, but it effectively keeps a vulnerable tooth safe from harm.
My Dentist In Londonderry, NH Can Create Digital And 3D Images To Take A Better Look At Your Smile
3D imaging and digital x-rays make it easier to see what is going on with your smile. At My Dentist in Londonderry, NH, you will benefit from an oral health review that capitalizes on modern technology. Our office is dedicated to making sure you have the best, most comfortable possible experience whenever you visit. To learn more, schedule a consultation with one of our dental professionals by calling the My Dentist office in Londonderry, NH, today at (603) 965-3407.